Case Study
Branded program promotes supportive virtual events and resources during COVID
During the pandemic, people in the transgender and nonbinary communities were struggling with isolation and stressful situations. Together with the Froedtert & Medical College of Wisconsin's Inclusion Health Clinic, FORGE spearheaded the PACT NOW program providing an active weekly schedule of virtual events plus resources and access to experts.
The Challenge
The PACT NOW program needed branding, design and social media asset support to raise awareness and attract attendees to its weekly virtual events. Events were carefully planned to offer a range of support in areas of mental health, medical Q&A, legal / advocacy Q&A, practical resources and —just as importantly—fun and connection with others. The topics covered a wide variety of themes but still needed to look and feel cohesive.
Our Solution
We designed a new logo and an icon system to reflect different aspects of the program. The branding was designed to be compatible with FORGE's existing brand but distinct and able to stand on its own. Each week over 28 weeks in 2020, we provided 3-6 sets of social media assets including a weekly calendar plus individual event assets for Instagram, Facebook and Twitter. We also designed fact sheets and other materials to help community members find needed resources.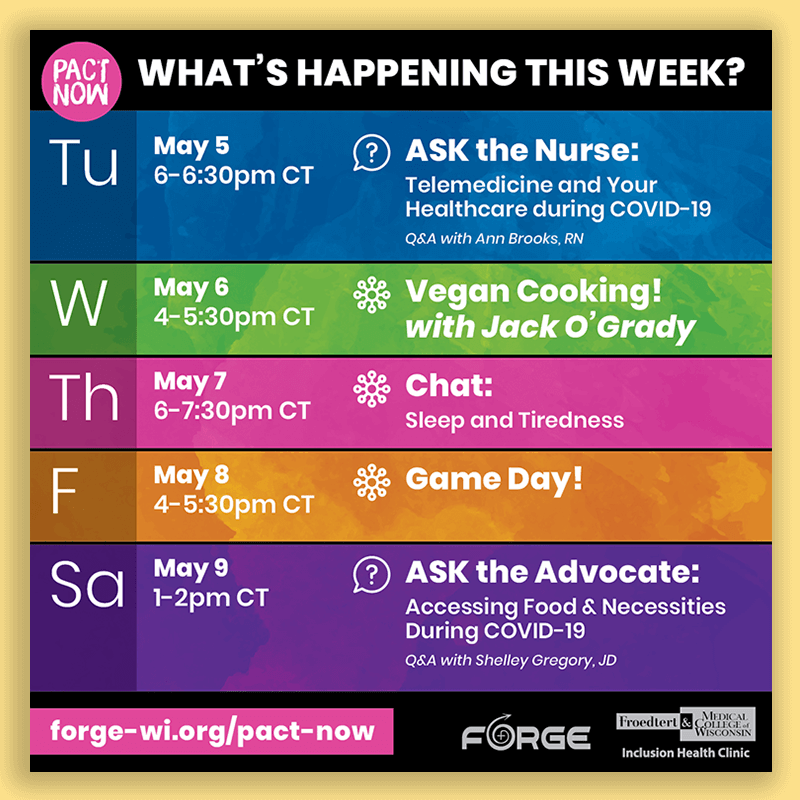 We enjoyed supporting this project with
branding

and

strategic design

to help create connection and resilience in the community.
Let's start something new
Say Hello!