Case Study
Fresh new website and branding launch a new era for Rachel Simmons
Rachel Simmons is a bestselling author, educator and consultant helping girls and women be more authentic, assertive and resilient. She's also been one of our favorite clients for over a decade. See how we helped her launch her business into a new and exciting direction.
The Challenge
Although we had fun building it together in 2009, Rachel's old site had become outdated, both in design and functionality, and no longer reflected Rachel's work accurately. In 2017, Rachel was about to publish a new book and dramatically change her business direction. It was finally time for a website and branding overhaul.
Our Solution
We were thrilled to work with Rachel to clarify her strategy and create a cleaner, more grown-up look for her brand. We rebuilt her website using current tools, adding useful functionality while removing old features no longer needed. We continue to provide maintenance and support post-launch.
Rachel was ready to take her work to the next level. We gave her brand and web presence the
dramatic makeover

she needed to get there.
Responding to Evolving Strategy and Business Direction
Rachel's previous website focused on her blog and video advice pieces as her primary outreach tool. They generated a lot of traffic but required significant upkeep. Now a successful author and educator—as well as a busy mom—Rachel wanted to focus more on promoting her new book and speaking engagements with less pressure to create frequent content. Her new website keeps her existing library of blog posts while shining a stronger spotlight on her books, workshops and consulting services.
Completely updated look and feel
Rachel wanted a lighter look with ample white space, clean lines and simple fonts. She favored straightforward page layouts and specifically did not want clutter or excessive design elements. She felt drawn to dusty purples, warm grays, muted oranges and salmon colors. We enjoyed working within these parameters to give her a stylish, professional look with a youthful but still adult energy.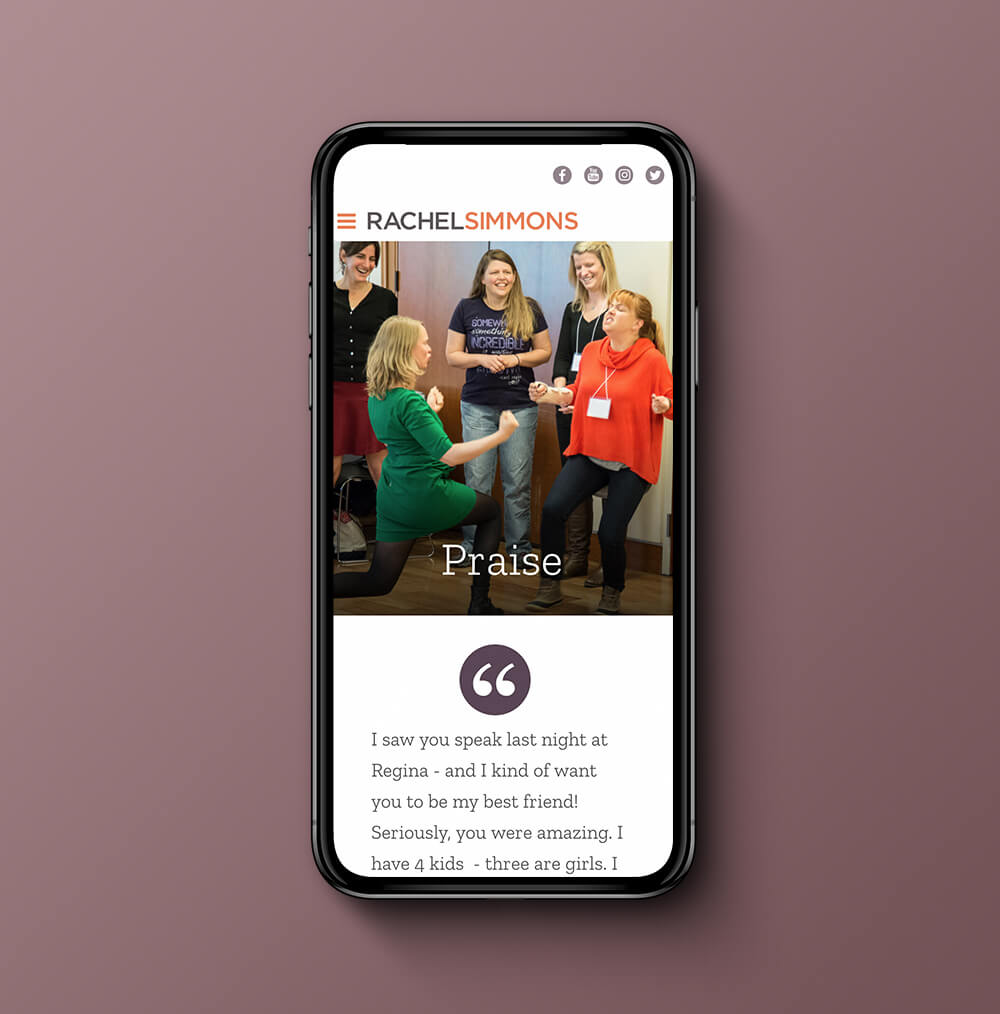 Updated and Streamlined Website Functionality
We removed functionality she no longer needed or didn't want to maintain. We added new features and rebuilt others using current WordPress technology.
We knew Rachel's staff would want to customize and update content on the website without having to navigate a complicated interface. We implemented functionality to allow targeted customization of the areas they would want to update while keeping the back end interface streamlined.
High-Impact Results
We launched this website at the start of Rachel's campaign to promote her new book published in February 2018. Her team coordinated social media and email promotion, resulting in a noticeable boost in website traffic. The new website was very well received by her audience. We congratulate Rachel on the success of her new ventures!
Dawn and her team put in 150% effort on my site. They're a triple threat: gifted designers with an expansive creative palate; active listeners who can synthesize your message and aesthetic, channeling it into a site that reflects and enhances your brand; and technically skilled and committed to keeping the site protected. This is my second site with Serendipity Creative, and I couldn't be happier with the result."
Rachel Simmons / Bestselling Author, Educator and Consultant
Let's start something new
Say Hello!